From Father Iain, All Saints Chiang Mai

Jesus heals!
Dear Friends,

At first glance this week's scripture readings don't seem to match.  Our Old Testament reading tells of the call of Jerimiah, while in our Gospel reading Jesus heals a woman bent-double and is condemned for healing on the Sabbath. But on second glance they are linked, for is that not our calling, to bring healing to God's world?  We often fail to be bringers of healing and reconciliation, but that is what God has called us to be!
Our scripture readings this Sunday will be from Jeremiah 1:4-10, Hebrews 12:18-29, and Luke 13:10-17, and we will be singing the great hymns All My Hope on God Is Founded; I, the Lord of Sea and Sky; Make Me a Channel of your Peace; and Go forth and tell!
Use this link to join us on Zoom this Sunday at 10:30 a.m.
Meeting ID: 548 801 501
Last week's Sermon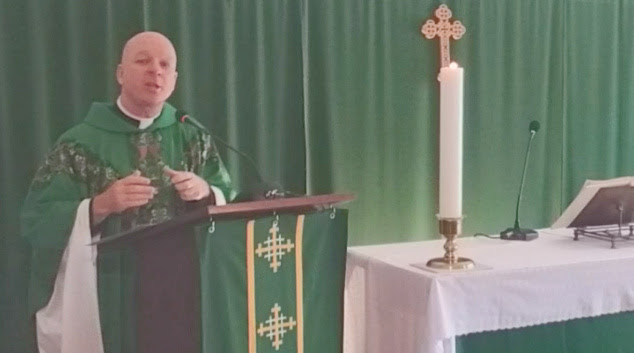 Video of last week's sermon "Fire and the Sword?", is now available here!
Welcome Back Potluck – Next Sunday!
Our August Welcome Back Potluck will be held on Sunday 28th August!!!!
Please sign up this Sunday to say what you can bring.
Harvest Festival – Sunday 2nd October
We will be celebrating our annual Harvest Festival on Sunday 2nd October.
There will be no service at All Saints, but we will travel together to the Youth Charity Foundation's House of Hope where we will worship together.  Our Harvest Festival will be followed by lunch provided by YCF.
October Choir Intensive!
Cassi and Joe
We will be having our first ever choir intensive for the children of the Youth Charity Foundation from Friday 15th to Monday 18th October!
A professional choir director, Joe Novelli, will be coming from England to lead the sessions, and Joe's partner, Cassi Joski-Jethi, who is a documentary film maker, will be recording highlights of the sessions!
We will probably have a two hour session each morning and another each afternoon, with lunch in between, and lots of fun activities.
This is a very exciting project and we will need people to help manage lunches and other arrangements at the vicarage!
Let me know if you can help in any way.

Chili Night 

Some of the group!
Chili Night will be suspended next week due to Covid.  Hopefully, it will return on Tuesday 30th August!


Weekly Offering to All Saints
You can still donate in person or online.  Thank you for your support and love for All Saints and all we are trying to do together.  God has shown that he is mighty and we are in his hands!
God bless,
Father Iain