From Father Iain, All Saints Chiang Mai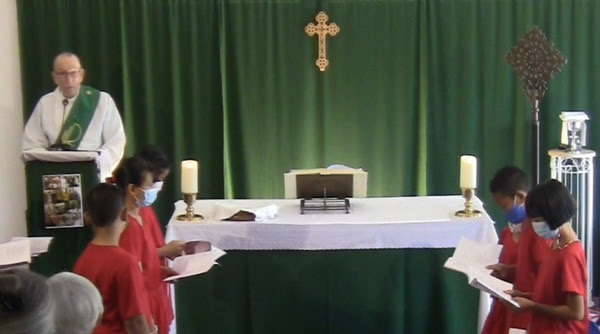 Rev. Dr. Gene Bourquin will preach this week!
CHURCH BEGINS AT 10:30 THIS SUNDAY!
Dear Friends,
This week our service will again begin at the new time of 10:30 a.m. Those who don't wish to gather in person can join us on Zoom.
Use this link to join this Sunday on Zoom at 10:30 a.m.
Meeting ID: 548 801 501

This Sunday, Gene will be preaching on the topic of the Action not Words. We have a hope in Christ, not just for ourselves but for the whole world, but this should prompt us into action! In this time which sees such darkness in Afghanistan, Myanmar, Haiti, and so many other places, we have a hope for the world to share, and we must act when we can!
Our scripture readings for the Thirteenth Sunday after Trinity will be from Song of Solomon 2:8-13, James 1:17-27, and Mark 7:1-23, and we will be singing the hymns Jesus Shall Reign Where'er the Sun, Be Doers of the Word of God, Called as Partners in Christ's Service, and Guide Me O Thou Great Jehovah!
Last week's Full Worship Service can be viewed here!  This was a Zoom recording and so the sound and picture is not of the usual quality.

Our hope in the Lord!
Covid-19 in Chiang Mai
The recorded infection level in Chiang Mai has dropped as low as 16 for the last two days.  Pray that this trend continues and that things may soon be able to fully open up again. Also, please pray for the continuing vaccination programme in the city.  Most of the older people at All Saints have now been able to receive at least one vaccination, but there is still some way to go before all are vaccinated.
Pray for Afghanistan!
As people continue to flee to the airport in Kabul, please hold the whole nation in your prayers.  Remembering especially those known to us and those who were working as partners with MCC. The situation is dire now, and many people just want to get out!  Let us pray as we can and do what we can to help!
Baptisms – last Sunday
 My friend, Pastor Nut, who is only eighteen, performed two baptisms last Sunday in Samut Prakan.  He has a ministry to LGBT people and others. Please hold him, and the mother and son he baptised, in your prayers.
Tuesday Morning Prayer Meeting
We had our fourth Tuesday Morning Prayer Meeting this week via Zoom. This will be a weekly event at 9 a.m. each Tuesday. Put it on your calendar so you don't forget!
If you would like us to pray for something or would like your prayer request shared with the email prayer group, please email helgaspring9@gmail.com If you would like to join the group but can't make 9 a.m. on Tuesdays, let me know!
Wednesday Lunch 

Some of last week's lunch group
The lunch at the Gymkhana Club continues.  Please join us at midday on Wednesday.  All are welcome – you don't have to be a club member!


Masks are Biblical!




Some people have tried to object to mask-wearing on religious grounds!  For Christians we only have to read Leviticus 13:45-46 to know that if we are sick, or may be a risk to others, we should wear a mask!

Anyone with such a defiling disease must wear torn clothes, let their hair be unkempt, cover the lower part of their face and cry out, "Unclean! Unclean!" As long as they have the disease they remain unclean.
                                               Leviticus 13:45-46

Of course, we shouldn't take verses out of context – but sometimes we can!!!!  🙂

Weekly Offering to All Saints
You can still donate in person or online.  Thank you for your support and love for All Saints and all we are trying to do together.  God has shown that he is mighty and we are in his hands!
God bless,
Father Iain