From Father Iain, All Saints Chiang Mai

Worshiping God in Chiang Dao

Dear Friends,
Judging from the seating at our worship service last week, sitting on the floor is not a problem. At our retreat in Chiang Dao many people chose to sit on the floor rather than use the uncomfortable wooden chairs. This was not a question of humility but of comfort!
But, what does it mean to be humble? How can we really serve one another and act as Christ did for us? That is what we will be looking at this Sunday at All Saints. Our scripture readings this week will be from Isaiah 53:4-9, Hebrews 5:1-10, and Mark 10:35-45, and we will be singing the hymns God Whose Almighty Word, Brother Sister Let me Serve You, From Heaven You Came, and Now Thank We All Our God!
Use this link to join this Sunday on Zoom at 10:30 a.m.
Meeting ID: 548 801 501
Last week's sermon, "All for Jesus?", can be viewed here!
All for Jesus?
Retreat to Chiang Dao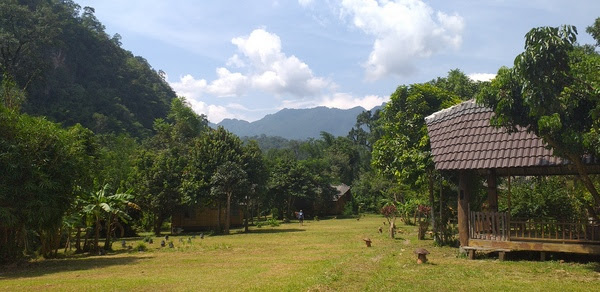 Nest Two, Chiang Dao!

A large group of us (between twenty and thirty depending on who you count!) has a wonderful time of peace and relaxation at The Nest, Chiang Dao, last weekend.

We had our youngest ever scripture readers!

Thanks to Katie, Christa, and all the other people who made this weekend possible!

Together in Nature!
All Saints Day Celebrations!
Our church is called "All Saints" so All Saints Day is our Patronal Festival. This marks another year in the life of our congregation. We will celebrate the feast on Sunday 31st October. We are delighted to have Archbishop Ron Langham ministering to us this year. He is visiting from Australia and will also give some teaching on "The meaning of Apostolic Succession" following our potluck at the vicarage.
I also hope our choir will be able to lead us in the singing – they have already begun practicing the hymns! Worship will begin at the usual time of 10:30 a.m. and the service will be followed by a potluck at the New Vicarage.
We will then enter our "Season of Remembrance" in November.
Chili Night continues!
A few of the group this Tuesday!
Everyone is again invited to the New Vicarage on Tuesday at 6 p.m. for Chili Night!
Every week, mum and I are hosting this open-house, offering chili con carne and rice followed by ice cream. Anyone can come – you don't have to let us know, just turn up. (Although advanced notice is useful so we can prepare enough chili!) All are welcome – not just All Saints people. Tell your friends, spread the word!
Email iain@AllSaintsChiangMai.com or call 0 904 604 304 for directions.

Prayer Meeting
We have a weekly online prayer meeting. Join us at 9 a.m. on Zoom every Tuesday.
Use this link to join the prayer!
THURSDAY Lunch
Some of the lunch group
The lunch at the Gymkhana Club continues – but has moved to Thursday! Please join us at midday today. All are welcome – you don't have to be a club member!


Weekly Offering to All SaintsYou can still donate in person or online. Thank you for your support and love for All Saints and all we are trying to do together. God has shown that he is mighty and we are in his hands!
God bless,
Father Iain