From Father Iain, All Saints Chiang Mai

Our Christmas morning Eucharist!
Dear Friends,

We have had an amazing Christmas season – packed Christmas services, fifty for Christmas lunch, the Youth Charity Foundation at the vicarage on 27th December, and New Year's Eve at YCF is still to come! We can enter the New Year with confidence that all is well and God is with us!
Thanks so much to all the wonderful people that worked so hard to make the festive season so great this year. Our next service will be at 10:30 a.m. on New Year's Day.
Happy New Year!
The bible readings for the Second Sunday of Christmas on New Year's Day will be Sirach 24:1-12, Ephesians 1:3-10, and John 1:1-5, 9-18, and we will be singing the hymns O Come All Ye Faithful, O Little Town of Bethlehem, Silent Night, God Rest ye Merry Gentlemen, and Joy to the World!
May I wish everyone a Happy New Year!
Use this link to join on Zoom on New Year's Day at 10:30 am
Meeting ID: 548 801 501
Our Christmas Worship
Highlights of our Christmas worship will be available here!
New Year's Eve at YCF
The staff and children of the Youth Charity Foundation have invited us to bring in the New Year with them. We will be presenting them all with Christmas presents and sharing dinner and worship together! All are welcome!
Dinner will be served at 5:30 pm.  This will be followed by the giving of presents, a time of worship and entertainment, and welcoming in the New Year!

Christmas Worship
Midnight Mass

Mark preaching, Ratcha translating

Visiting Chiang Mai University Students

Christmas Day worship

The Gospel Reading

The Christmas Message!
Christmas Lunch
Fifty people joined us for a wonderful Christmas Lunch! Thanks to Arthur and Phyliss for coordinating everything and to everyone who contributed so much.
Maureen's Birthday!
Mum was 81 on 27th December! We arranged a surprise visit from the Youth Charity Foundation kids! She was speechless! A great time was had by all! Pizza and Pad Thai was happily consumed!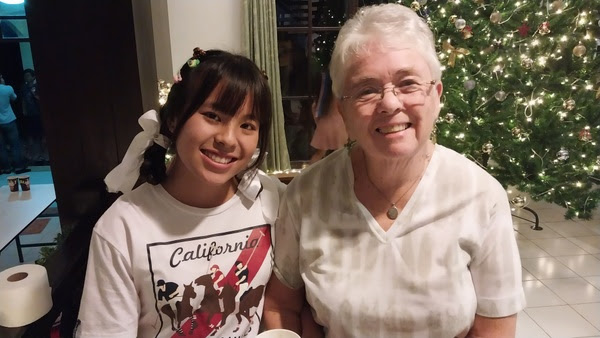 Chili Night 

Some of the group!
Chili Night will return on Tuesday 3rd January 2023 at the usual time of 6 p.m. Come and join us at the vicarage as we share chili followed by ice cream! 
Weekly Offering to All Saints
You can still donate in person or online.  Thank you for your support and love for All Saints and all we are trying to do together.  God has shown that he is mighty and we are in his hands!
Happy New Year to you all!
Father Iain