From Father Iain, All Saints Chiang Mai

Archbishop Ron will be with us once again
Dear Friends,
It is wonderful to have Archbishop Ron Langham with us once again for three ordination! We are very grateful that he is willing to assist us in this way!
The Gospel reading for this Sunday is Jesus' resurrection appearance on the Sea of Galilee, when he calls upon Peter to "Feed my sheep!" That is what all of us called to Christian leadership are called upon to do and we will be re-affirming that this week!
Our scripture readings for this Sunday will be Acts 9:1-20, Revelation 5:11-14, and John 21:1-19, and we will be singing the hymns Jesus Christ is Risen Today; Alleluia, Alleluia, Give Thanks; In Christ alone my hope is Found; and Thine Be the Glory!
Use this link to join us on Zoom this Sunday at 10:30 a.m. or at the ordination service at 2 p.m. on Saturday.
Meeting ID: 548 801 501
Last week's Sermon
Last week's sermon by Pastor Mark Crawford on Doubting Thomas can be seen here!
The Youth Charity Foundation in Hua Hin
The beautiful "Christian Mission Cottages"
The YCF children had a wonderful time in Hua Hin. Thanks to all who gave to make this possible!
Sunrise preaching on the beach
It was hard work for the leaders, though!  I preached at two sunrise devotions and one evening devotion, and led three two-hour bible studies.
Studying the Bible together!
The highlight of the week was the Wednesday morning baptism service, when nineteen of the older children were baptised!
Preparing for the Baptism!
For half the children it was the first time they had seen the sea, and one of the boys cried because the food was so plentiful and his family back home have so little.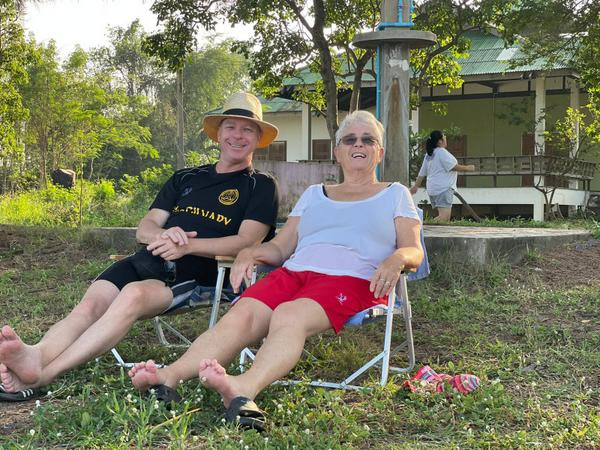 Relaxing over-looking the sea!
The most challenging part was supervising the children in the sea! You nearly lost your pastor when one of the girls got into difficulties and I had to swim out to pull her back in! I was praying very hard indeed as I struggled against the current, but thank God that all was well and no one was lost!
Altogether it was an exhausting but very worth-while week!
Sharing God's word together!

New Small Groups Continue
Tuesdays at 12pm– small group at Bella Goose
Thursdays at 6pm– small group at the Crawfords'
Talk to Mark and Christa for more details.
Chili Night

A few of the group!
Chili night will return next Tuesday, 3rd May, at 6 p.m. This will be the last Chili Night before mum returns to the UK for four months!

Weekly Offering to All Saints
You can still donate in person or online.  Thank you for your support and love for All Saints and all we are trying to do together.  God has shown that he is mighty and we are in his hands!
God bless,
Father Iain