From Father Iain, All Saints Chiang Mai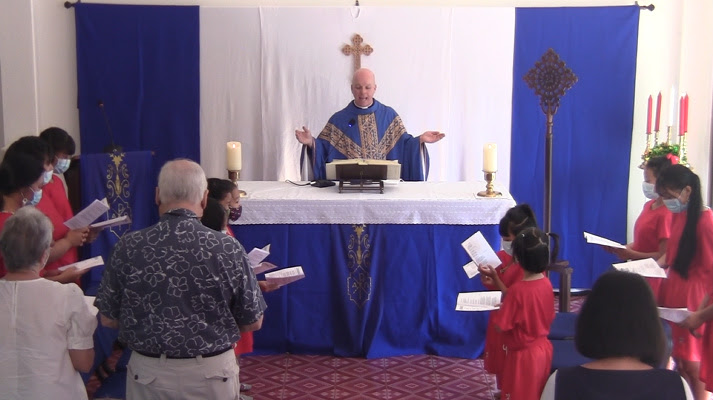 Advent is Here!

Dear Friends,
We had a wonderful Advent Sunday service and potluck as we began the season in anticipation of Christmas. Advent is a time when we long for a better world with no more death or dying, a world where all will be made right! We continue in that anticipation as we mark the Second Sunday of Advent this week.
Our bible readings this Sunday will be from Malachi 3:1-4, Philippians 1:3-11, and Luke 3:1-6, and we will be singing the hymns O Come O come Emmanuel, Song of Mary, Sing We the King Who is Coming to Reign, and Lo! He Comes with Clouds Descending!
Use this link to join this Sunday on Zoom at 10:30 a.m.
Meeting ID: 548 801 501
Our Advent Sunday service will soon be available via our Audio-Visual page on the All Saints website!


Lighting the Advent Crown!

Clarice
As many of you already know, Clarice, our ninety-five year old oldest member, is seriously ill in hospital.  She now has pneumonia.  Please hold her and her family in your prayers.
Decorating the Church




If any one is free at 10:30 this morning, come to the church to help us finish the Christmas decoration!

Festival of Christmas Carols – Coming Soon!


Posters and tickets are now available for distribution.

On 1st December restrictions on the number of event attendees in Chiang Mai city were lifted. Please feel free to distribute tickets widely and invited your friends and neighbours.  

Thammapratheep Church is a large building with seating for well over 200 people, so we will still be able to social distance.  Masks will be required at all times except for when reading from the front or the choir when singing the choir pieces.  People will be required to sign-in and have their temperature taken.

It should be a wonderful event with the Lannacappela Choir leading the singing and performing their own items, and the All Saints Choristers singing for the first time!

All members of All Saints who are attending, are requested to bring cookies or snacks to share after the service.


Christmas Presents for YCF
Money to purchase the gifts can be placed in the donation box at the back of the church and we have a "Gift Wrapping Party" on Thursday, December 16 from 10:30 – noon.
 
Advent Sunday Potluck
Lunch under the trees!
Thanks to all who made this such a great potluck and for the people who made me a birthday cake, too!
Decorating the tree at the church…

and the big tree at the vicarage!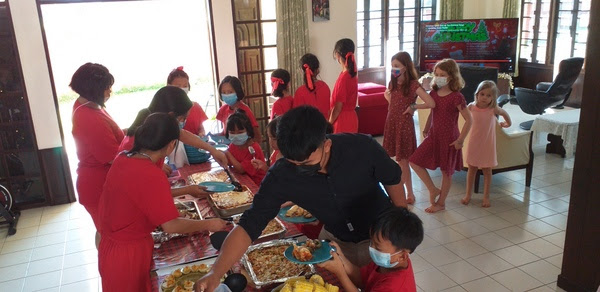 Food for all…

and Happy Birthday to me!
 
Christmas Events for your Diary!

Posters are now available for distribution!
Saturday 11th December.  7:00 p.m.    
 Festival of Christmas Carols 

Friday 24th December      11:30 p.m.  
 Midnight Mass

Saturday 25th December  10:30 a.m.  
 Christmas Family Eucharist
 Followed by Christmas Lunch

Sunday 26th December  –
NO SUNDAY SERVICE!

Thursday 30th December       
 Christmas Celebration at YCF


Christmas Lunch at the Vicarage!

This will include turkey, ham, Christmas pudding, and all the trimmings!  We need people to sign-up to indicate they will be coming so we can make sure there will be enough food!  

More details to follow later!

 Chili Night continues!
A few of the group!
Everyone is again invited to the New Vicarage next Tuesday at 6 p.m. for Chili Night!
Every week, mum and I are hosting this open-house, offering chili con carne and rice followed by ice cream. Anyone can come – you don't have to let us know, just turn up. (Although advanced notice is useful so we can prepare enough chili!)
All are welcome – not just All Saints people. Tell your friends, spread the word!
The address is:
The New Vicarage,
9/65 Ban Ing Doi,
Kan Klong Chonprathan Road,
Tambon Chang Phueak,
Chiang Mai
This is the link on Google Maps.
From Maya Mall. Drive up Huay Keaw Road towards Chiang Mai University. Turn right along the Canal Road. Go through one small set of traffic lights. After the road crosses over to the right side of the canal, Ban Ing Doi mooban is accessed over a little white bridge on the left.
Enter the mooban and immediately turn left. The New Vicarage is straight ahead.

Prayer Meeting
We have a weekly online prayer meeting. Join us at 9 a.m. on Zoom every Tuesday.
Use this link to join the prayer!
Thursday Lunch
Some of the lunch group
Our weekly lunch at the Gymkhana Club continues at noon today.  All are welcome!


Weekly Offering to All Saints
You can still donate in person or online.  Thank you for your support and love for All Saints and all we are trying to do together.  God has shown that he is mighty and we are in his hands!
God bless,
Father Iain