From Father Iain, All Saints Chiang Mai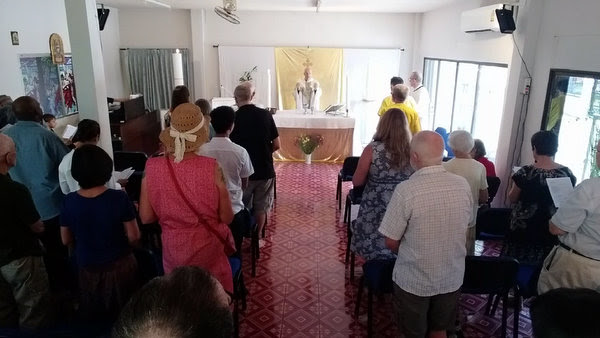 Our wonderful Easter Eucharist!
Dear Friends,
We had a wonderful Easter weekend at All Saints.
Firstly on Good Friday we had a moving Tenebrae Service as we remembered the last days of Jesus as he journeyed to the Cross.  Then on Holy Saturday some of us went out to the Youth Charity Foundation orphanage to organise an Easter Egg hunt and other fun activities for the children.  Then finally on Easter Sunday we had our joyful Easter Eucharist followed by a potluck and Easter Egg hunt for the children of All Saints.
Easter Sunday Eucharist – He is Risen!
More details and pictures below!
This week, our Gospel reading tells the story of doubting Thomas.  As I read the familiar story once again, I was struck by the importance of touch.  Thomas said "Unless I put my finger in the mark of the nails and my hand in his side, I will not believe."  We often say seeing is believing, but touch is even more so.  It is a hug that can really show when someone loves us, and it is often a touch that can bring healing when nothing else can.
Our scripture readings this Sunday will be Acts 5:27-32, Revelation 1:4-8, and John 20:19-31, and we will be singing the hymns Alleluia! Sing to Jesus, The Day of Resurrection, Hail the Day, and All Hail the Power of Jesus' Name!  The readings can be found via this link and past services and sermons can be viewed via the All Saints audio-visual page!
Good Friday
Emily Chase giving the First Reading
Our solemn Good Friday Tenebrae service consisted on seven readings telling the story of the events leading up to the crucifixion and ending as Jesus' body was laid in the tomb.  The palm branches from Palm Sunday remained in place, but now they were dry and wilted, showing only death and decay.
After each reading another candle was extinguished, and at the end of the service we left the church in silence and darkness.
Easter Orphanage Visit
On Holy Saturday, seven people from All Saints took gifts to the children of the Youth Charity Foundation.  Our visit included an Easter Egg Hunt and egg dipping, and Warren donated a huge pile of clothes given by visitors to his farm.
Many thanks to all who made this great event possible!
Easter Sunday
On Easter Sunday, thirty-six of us gathered to celebrate the resurrection!  It was great to see so many kids taking part, with Sam controlling the sound, Jeff lighting the Easter Candle, and Cambree and Nora lighting the altar candles before the service.
Lighting the Easter Candle

Lyla looking very cute – and me less so!
After our worship we has an incredible pot-luck lunch, with delicious piping-hot food, and scrumptious desserts.  Thanks to all who made this possible!
Our delicious potluck!
Our celebrations of the Easter Season will continue this Sunday!
Most people get to hear about us via the internet or by word of mouth, so please feel free to pass on this email to others.
All are welcome to join us as we share the presence of the risen Jesus in our lives!  We hope to see you soon and that you will enjoy worshipping with us,
God bless,
Iain