From Rev Iain Baxter, All Saints Chiang Mai
POTLUCK THIS SUNDAY!
Dear Friends,
This Sunday we will celebrate All Saints Day, which actually falls next Tuesday on 1st November.  This is the Saints' Day of our church and we will give thanks to God for the past year and pray for the year ahead.  Our Sunday morning service will be followed with a potluck lunch which we will share together.  All are welcome to join!
If you haven't been for a while, why not take this opportunity to come back?  We are all saints and we all need one another to be the full body of Christ.  If you are not here, you are missed!
Last Friday Nate Tipton led the first gathering of Theology on Tap.   A group of us met at Gekko Garden to discuss theology over a pint of beer, or other drink, and it was a very enjoyable evening for all.  Next month's Theology on Tap will discuss heaven and hell! Watch out for details of where and when!
November 11th is Remembrance Day.  There will be a short ceremony at the Chiang Mai Foreign Cemetery beginning at 10:30 a.m. organised by the Royal British Legion.  This will be followed by lunch at the Gymkhana Club.  Everyone from All Saints is welcome to join.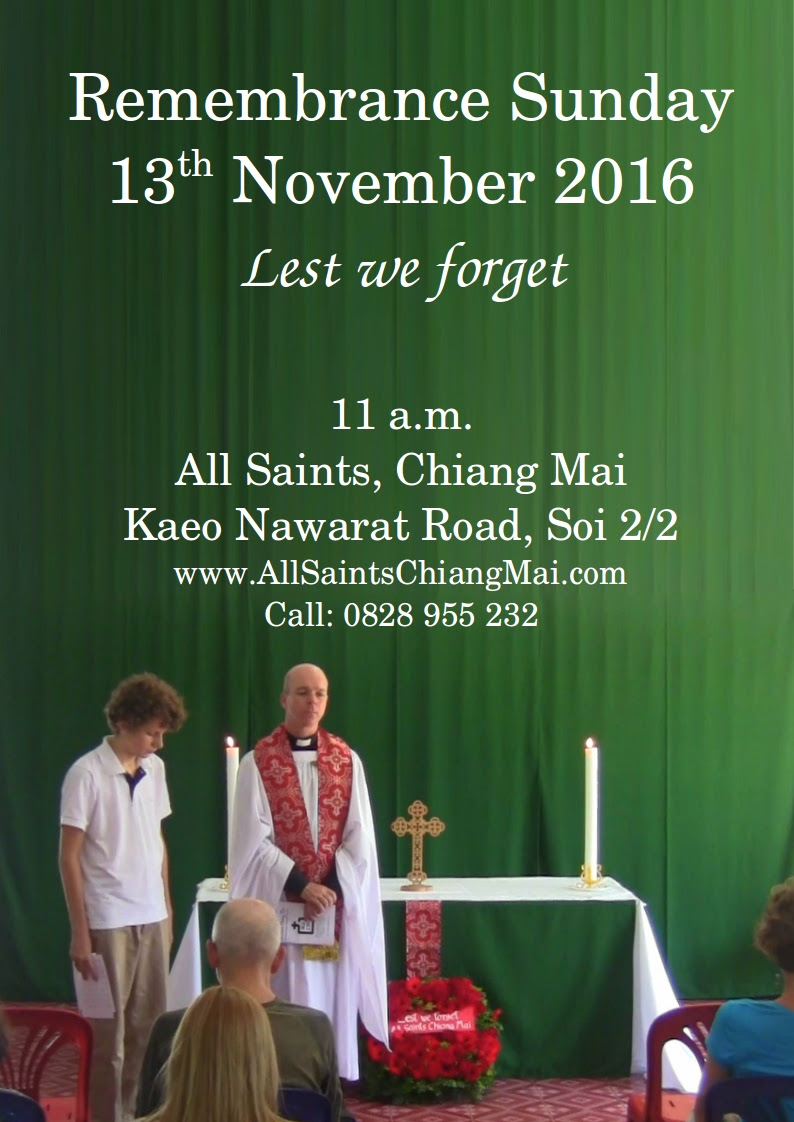 This will be followed by Remembrance Sunday. Sunday 13th November is Remembrance Sunday when we will remember those who gave their lives in the two World Wars and subsequent armed conflicts around the world.  Our service will include the two minutes' silence following the playing of the Last Post.
Christmas is coming!
Advanced notice of our Christmas activities:
On November 27th we will have another potluck as we decorate the church for Advent and Christmas.  This has become a yearly event enjoyed by all – especially the children and childlike among us!  It is also my 50th birthday!
This year the Prince Royal's College chapel is not available due to extensive renovations, so instead we shall hold our Festival of Nine Lessons and Carols in our own church building.  This will be on both Friday 9th AND Saturday 10th December beginning at 7 p.m.   We will have two services to try to accommodate as many as we can!  There will be a limited number of tickets on sale for each night.
If you would like to sing in the choir, contact Deb Childs on childs.deb@gmail.com. She is the director of Lannacapella who will form our choir for the Nine Lessons and Carols this year!
Christmas Day falls on a Sunday this year, so we will have our usual 11 a.m. service, and also a Midnight Mass beginning at 11:30 p.m. on Christmas Eve.
Our readings this Sunday will be Daniel 7:1-3, 15-18, Revelation 21:1-6a, and Luke 6:20-31,  and we will be singing the hymns For All the Saints, Sing With All the Saints in Glory, The saints of God their conflict past, and O When the Saints!
The readings can be found via this link!
Meanwhile, you have another chance to join in Zumba!!! All are welcome to join us in Zumba on Wednesday at 5 p.m. here in the church! It will last about an hour. No previous experience is needed and Andy Ong will be leading the class.  All ages and fitnesses welcome! Come and join the fun!