From Father Iain, All Saints Chiang Mai

The Rich Man and Lazarus
Dear Friends,

This week's Gospel reading tells the story of the Rich Man and Lazarus. It's an interesting story, but taken literally we have some awkward theological and philosophical questions. But it is a parable, it isn't meant to be taken literally! Find out what we can learn from this story this Sunday!
Our Harvest Festival is fast approaching! On Sunday 2nd October (only a week away) we will all be travelling up to the Youth Charity Foundation's House of Hope to worship there together. Meet at the church at 10 a.m. if you would like a lift or can take someone else. The Harvest Festival Service will start at YCF at 11 a.m. and will be followed by a potluck lunch.

The scripture readings at All Saints this Sunday will be from Amos 6:1, 4-7, 1 Timothy 6:6-19, and Luke 16:19-31, and we will be singing the hymns All Hail the Power of Jesus' Name; All to Jesus I surrender; Dear Lord and Father of Mankind; and Before the Throne of God Above!
Use this link to join us on Zoom this Sunday at 10:30 a.m.
Meeting ID: 548 801 501
Last week's Sermon
Video of last week's sermon, "Using it Wisely!", is available here!
Queen Elizabeth – Commemoration Service
It was a great privilege to officiate at the service to commemorate the life of Queen Elizabeth, which was held at the Gymkhana Club on Monday.
Many of us gathered together to watch the funeral service from London on a big screen, and then over three hundred, including the Mayor and Mayoress of Chiang Mai and other military and civilian dignitaries, gathered for our own service.
The music was led by the staff and students to Prem International School, and we sang The Day Thou Gavest Lord is Ended and Amazing Grace as well as God Save the King.
There were readings from the British, Canadian, and Australian consuls, and the ceremony ended with The Last Post and a twenty-one gun salute from the Thai army.
Video of the Service of Commemoration is now available here.
https://youtu.be/X9shfAquoLY
Thanks to Stephen Harrow.
Harvest Festival – Sunday 2nd October
We will be celebrating our annual Harvest Festival on Sunday 2nd October.
There will be no service at All Saints, but we will travel together to the Youth Charity Foundation's House of Hope where we will worship together. Our Harvest Festival will be followed by a potluck lunch with food also provided by YCF.
October Choir Intensive! – Coming Soon!
We will be having our first ever choir intensive for the children of the Youth Charity Foundation from Friday 15th to Monday 18th October! A professional choir director, Joe Novelli, will be coming from England to lead the sessions, and Joe's partner, Cassi Joski-Jethi, who is a documentary film maker, will be recording highlights of the sessions!
We will probably have a two hour session each morning and another each afternoon, with lunch in between, and lots of fun activities. This is a very exciting project and we will need people to help manage lunches and other arrangements at the vicarage!
Let me know if you can help in any way.
Trip to Chiang Dao
We are planning our third church weekend at The Nest in Chiang Dao on the weekend of Friday 21st to Monday 24th October. (The Monday is a public holiday!) It will be a great time to escape the city and enjoy fellowship together surrounded by the beauty of nature!
Some will choose to go up on Friday night, but most people will probably journey up to Chiang Dao on Saturday morning and stay until Monday.
Please sign-up this week!
The end of Compulsory Masks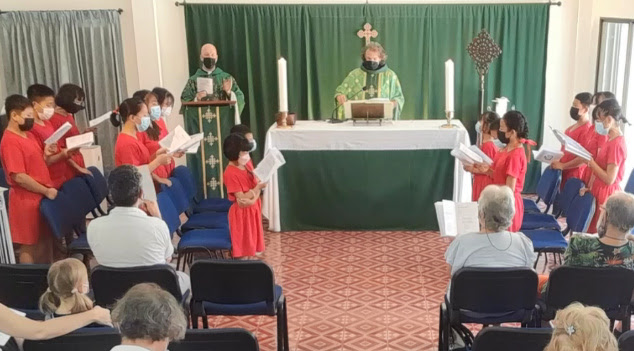 The wearing of masks is no longer compulsory during services at All Saints.
We are asking anyone who wishes to not wear a mask to sit towards the front, so that others can feel safe and choose to sit elsewhere if they wish. We would also ask that if anyone would like further accommodations made, they would speak to me or any Council member and suggest what further measures we could take to make them feel comfortable.
Chili Night

Some of the group!
Chili Night will continue next Tuesday.

Come and join us at the vicarage as we share chili followed by ice cream!

Email for directions!

Weekly Offering to All Saints
You can still donate in person or online. Thank you for your support and love for All Saints and all we are trying to do together. God has shown that he is mighty and we are in his hands!
God bless,
Father Iain