From Father Iain, All Saints Chiang Mai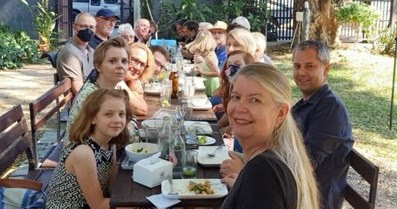 We are the Body of Christ!

Dear Friends,
Last Sunday we had a wonderful Epiphany Service to mark the end of the Christmas season.

Over 30 people gathered to celebrate Epiphany!
This Sunday, our New Testament reading is from 1 Corinthians 12:1-11 where Paul writes of spiritual gifts.  You may or not feel that you have any of the gifts on the list, but the over-riding message is that all gifts are for the common good and that they are all given by the same Spirit.
As we approach our Annual General Meeting and the election of a new Church Council, it is good to remember that we are all called to serve one another, just as Jesus came not to be served but to serve and to give his life as a ransom for many!
As this time of decision comes may we all have wisdom and act in love for one another.
The bible readings for this Sunday will be from Isaiah 62:1-5, 1 Corinthians 12:1-11, and John 2:1-11, and we will be singing the hymns Jesus Shall Reign Where'er the Sun, King of Kings Majesty, Let us Break Bread Together, and Christ is made the Sure Foundation!
Use this link to join this Sunday on Zoom at 10:30 a.m.
Meeting ID: 548 801 501
You can see video highlights of the Epiphany Service here!
Epiphany Scripture Reading!
Next Potluck – Sunday 30th January
This will be at the vicarage on Sunday 30th January.  It will follow our celebration of Candlemas when the All Saints Choristers will again be helping lead our worship.
Annual General Meeting 2022 – 27th February

Our AGM will be held on Sunday 27th February following the morning service, in accordance with the provisions of our 2021 Constitution.
What does the AGM do?
All Saints is a hybrid church – we are neither fully congregational nor fully episcopal.
In a congregational church, all authority under God rests with the congregation.
In the purest form of congregationalism, all decisions would be taken by vote of a congregational meeting. This would require almost weekly congregational meetings, and so decisions would be made by those who happened to be present that week. In a quickly changing congregation, like All Saints, this could be quite unstable.
In a completely episcopal church, like the Roman Catholic or Orthodox churches, all authority under God rests with the bishops, who delegate that authority to priests. The lay people do not have formal authority in the structure and authority is passed on in the Apostolic Succession. In an independent congregation, like All Saints, this would put all authority in the hands of one person and wouldn't provide a system for accountability.
So All Saints' constitution seeks to provide a system of checks and balances, taking the best features from each model.
Firstly, the congregation is the ultimate authority, under God, but delegates that authority by appointing a priest and electing members of the Church Council.
Each year, the congregation elects new members of the Church Council at its Annual General Meeting.
This year, our two longest-serving members, Chris Tananone and Helga Spring, will be stepping down. Of the remaining two lay members, Hannah Alexander-Herrick has only served for a year, and Katie Wierenga was co-opted to complete the remainder of Bill Moeller's term in September.
To ensure continuity, our Church Council consists of four lay seats elected by the congregation, and three clerical seats occupied by the clergy or, in the absence of three clerical staff, nominated by the vicar. Both Mark Crawford and I have been in leadership at All Saints for a number of years, and so can provide that needed continuity and institutional memory – but we can be outvoted by the lay members. (Our deacon, Gene Bourquin, has temporarily set down as he explores possible ordination to the priesthood within The Episcopal Church.)
Article 2 of the All Saints constitution states:
"The ultimate authority of All Saints Chiang Mai is the word of God. The authority for the governance of the temporal affairs of the church (such as finance, property, and governance) rests with the congregation and is carried out by the Church Council. The authority for spiritual matters rests with the vicar. If there is a disagreement about whether an issue is spiritual or temporal, this will be determined by the Church Council."
Our constitution seeks to balance leadership and accountability, and contains further checks and balances to this end. You can download and read the whole constitution here.
How can you be involved in the future of All Saints?
Firstly, attend the AGM on 27th February where you can elect members to the new Council.
Secondly, pray as to whether you should join the Council – all church members are eligible to stand. Speak to an existing Council member if you are interested.
Thirdly, pray for your Church Council members, give them your support, and share your ideas and concerns with them.
And finally, pray for Mark and I as we lead All Saints forward, and carry spiritual responsibility for God's people.

The AGM will not last very long. There will be a Vicar's Report, and a Financial Report from Arthur Mann, our Treasurer. The congregation will then be asked to approve the budget for 2020 and elect the new Church Council.

Please be there and be involved if you can – it is your church!


Chili Night


A few of the group!
Chili Night at the vicarage continues on Tuesdays at 6 p.m.

Every week, mum and I are hosting this open-house, offering chili con carne and rice followed by ice cream. Anyone can come – you don't have to let us know, just turn up. (Although advanced notice is useful so we can prepare enough chili!) All are welcome – not just All Saints people. Tell your friends, spread the word!

Prayer Meeting
We have a weekly online prayer meeting. Join us at 9 a.m. on Zoom every Tuesday.
Use this link to join the prayer!
Thursday Lunch
Some of the lunch group
The lunch at the Gymkhana Club is currently not happening as so many people's schedules have changed!  Watch this space for news!


Weekly Offering to All Saints
You can still donate in person or online.  Thank you for your support and love for All Saints and all we are trying to do together.  God has shown that he is mighty and we are in his hands!
God bless and Happy New Year!!!!
Father Iain