From Father Iain, All Saints Chiang Mai
CHURCH BEGINS AT 10:30 THIS SUNDAY!
Dear Friends,
This week our service will again begin at the new time of 10:30 a.m. Those who don't wish to gather in person can join us on Zoom.
Use this link to join this Sunday on Zoom at 10:30 a.m.
Meeting ID: 548 801 501

This Sunday, Mark will be preaching on the topic of the Hope of God. We have a hope in Christ, not just for ourselves but for the whole world. In this time which sees such darkness in Afghanistan, Myanmar, Haiti, and so many other places, we have a hope for the world to share.
Our scripture readings for the Twelfth Sunday after Trinity will be from 1 Kings 8, Ephesians 6:10-20, and John 6:56-69, and we will be singing the hymns Awake My Soul and with the Sun, Blessed Assurance, Be Still for the Presence of the Lord, and All My Hope on God Is Founded!
Last week's Full Worship Service can be viewed here!  This was a Zoom recording and so the sound and picture is not of the usual quality.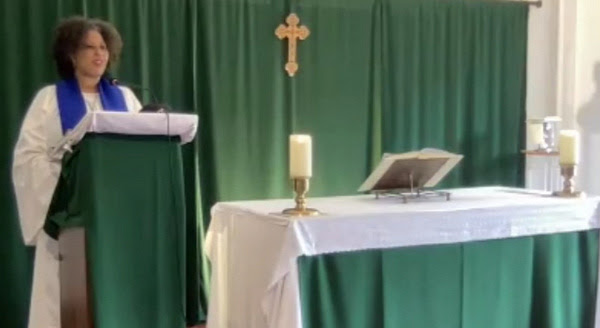 The Wisdom of God!
Trip to Bangkok
I successfully picked my mum up from quarantine in Bangkok last Sunday.  Thank you for all your prayers. She is now with me in Chiang Mai and should be at church on Sunday.  Meanwhile, I have to self-isolate for two weeks, and so am working from home. I will be back at church on the 29th August.
10:30 a.m. start – this Sunday!
From August 1st our morning worship has begun at 10:30 a.m.  (Don't worry if you forget – you'll just be there early!)
Pray for Afghanistan!
We have many people at All Saints working with the Mennonite Central Committee aid agency. MCC has been working in Afghanistan for many years.
Blaine writes:
We continue to monitor the situation very closely, and are keeping in contact with our expat staff and our Afghan staff.  We are somewhat relieved because our expat staff have been able to leave Afghanistan and now are in Uzbekistan. 
 
We are very concerned about our Afghan staff that have worked with us and remain in Afghanistan.  There is real anxiety among some of our partners which we are in contact with concerning their safety and future.  We have one partner that has done a lot of Peacebuilding training activities, and another three partners that have worked with Women's literacy and vocational skills – All of these are in Kabul.  We have another partner in Herat that works with mental health.

Please hold all these people and situations in your prayers!
Pray for Myanmar
Karenni people fleeing their homes
We have sent another THB10,000 to help with the situation in Myanmar.  This is being used to purchase medical supplies for Karenni people.  It is estimated that 50% of the Karenni population have been internally displaced to camps along the Thai-Burmese border. There are reports of random shootings and the targeted shelling of churches by the Burmese military.
Please hold them, and all of Myanmar in your prayers.
Baptisms – this Sunday
My friend, Pastor Nut, who is only eighteen, will be performing three baptisms this Sunday in Samut Prakan.  He has a ministry to LGBT people and others. Please hold them in your prayers.
Email Prayer Group
"The prayer of a righteous one is powerful and effective."
Would you like us to pray for you or something or someone you are concerned about?
We have started an email prayer group.  Simply email your request to Helga at helgaspring9@gmail.com and it will be shared with the people on our praying list. If you would like to be one of the pray-ers.  Then also email the same address to be added to the list.  You will then be forwarded prayer requests as they arrive.
Tuesday Morning Prayer Meeting
We had our third Tuesday Morning Prayer Meeting this week via Zoom.  This will be a weekly event at 9 a.m. each Tuesday.  Put it on your calendar so you don't forget! Use this link to join us! If you would like us to pray for something or would like your prayer request shared with the email prayer group, please email helgaspring9@gmail.com
Wednesday Lunch – Restarts!
Although the pandemic is far from over, the number of cases in Chiang Mai seems fairly static and people are still allowed to eat in restaurants, both inside and outside.  It is therefore relatively safe to eat outside at the Gymkhana Club. We will therefore be meeting again at midday next Wednesday.

Weekly Offering to All Saints
You can still donate in person or online.  Thank you for your support and love for All Saints and all we are trying to do together.  God has shown that he is mighty and we are in his hands!
God bless,
Father Iain