From Father Iain, All Saints Chiang Mai

This week is our last regular Zoom only service!
Dear Friends,
Seventeen weeks ago I flew back to the UK to spend three to six weeks with my mum during lockdown.  The following Sunday we began our Zoom services.  This week will be the 19th consecutive online-only Zoom service from All Saints, and our last until September.
On Sunday, 2nd August, in person worship will resume at All Saints, led by our new Congregational Pastor, Rev. Mark Crawford.  I remain your vicar, but Mark will be taking care of the congregation in Chiang Mai until I return.  This was approved by the All Saints trustees at yesterday's meeting.  Mark will stand down from the trustees whilst in this new role.

Rev. Mark Crawford – our new Congregational Pastor
The services will also be live-streamed and recorded so that those who cannot attend in person can still worship with us – more about that next week!
These are very strange times.  No one could have predicted that I would end up trapped in the UK for at least six months, but God is still in control!  Our New Testament reading this week reminds us that:
Neither death, nor life, nor angels, nor rulers, nor things present, nor things to come, nor powers, nor height, nor depth, nor anything else in all creation, will be able to separate us from the love of God in Christ Jesus our Lord.
So, the current travel restrictions, difficult though they are, certainly cannot separate us from God's love.  As we move on there are exciting things ahead of us as a church and my temporary absence does not have to slow things down.  You can read more about that below in my "Background Notes" below!
Our final all-virtual service will be this Sunday at 6 p.m. in Thailand.  (7 a.m. in New York, midday in the U.K., and 1 p.m. in Europe!)
Click here to join the Service this Sunday!

Worshipping Together!
Our scripture readings for this Sunday will be 1 Kings 3:5-12, Romans 8:26-39, and Matthew 13:31-33, 44-52, and we will be singing the hymns All People that on Earth do Dwell, King of Kings Majesty, It is well with my Soul, and Tell Out My Soul!
Our service will consist of our usual Eucharistic worship!  All are welcome to join in the prayers and liturgy, to listen to the readings and sermon, and to receive virtual communion if they feel comfortable.  If you want to receive virtual communion then have a small piece of bread and a small glass of wine or grape juice prepared.
The words of this Sunday's bulletin is pasted below at the end of this email, or you can download it as a pdf to view or print from this link.  You can then read and join in the liturgy if you wish.
Face-to-Face Worship at All Saints
We will be restarting face-to-face worship at All Saints at 10 a.m. on Sunday 2nd August. The chairs have been rearranged to ensure that social distancing is maintained, people's temperature will be taken on arrival, masks will be required, and hand gel supplied.  Names and contact details will be recorded.
All the doors and windows will be open and fans will ensure maximum air circulation.  No singing will be permitted but we will be able to listen to the hymns being played on backing-tracks and sing along in our heads.
There will not be a coffee time following the service, but people are invited to lunch, out-doors, at Green O'Clock following the service.
The services will be shared on Zoom so that those who cannot, or do not feel happy to, attend in person, can still join!
The draft protocols can be viewed here!
Background notes on the possible Relationship
with the Church of Christ in Thailand
All Saints, Chiang Mai, began in 2013 in Ivan Hall's studio apartment.  A few weeks later we began worshipping on the terrace of the house I shared with the Chase family.  In 2014 we moved into our present building.
All Saints is currently an informal organisation.  It is not recognised as a "juristic person" by the Thai government and so cannot rent property or do other things in its own name.  Our building is therefore rented in my name.  Initially, All Saints was too small and too new to have an elected church council.  It was not even clear who was a "member" in order to be able to hold an election and make sure it was quorate, etc.

Our building is currently rented in my name
However, as All Saints was not part of a larger denomination I felt I needed to be able to be held accountable and so I asked five people to be Church Trustees.  They have to approve important decisions and large items of spending and payments, and can hold me to account morally and spiritually.  They are also a great support to me in prayer and advice.
The current Trustees are Chris Tanonone, Helga Spring, Bill Moeller, and Caitlin Littleton.   There are, of course, other wise people in our congregation, and anyone is welcome to give me advice and counsel.

All Saints Trustees in 2017
However, over the years All Saints has grown, and will hopefully continue to do so, and so the time has come to try to put the church on a more sustainable basis.
To be recognised and registered as a church in Thailand you have to be part of one of five groups:
The Roman Catholic Church
The Seventh Day Adventists
The Southern Baptists
The Evangelical Fellowship of Thailand
The Church of Christ in Thailand
About half the Christians in Thailand are Roman Catholic, and the Protestants are mostly either part of the EFT or CCT.
The Church of Christ in Thailand was formed in 1934 as the Church in Siam with the intent of forming a single ecumenical denomination to include all Protestant churches in Thailand.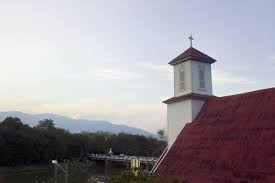 The old First Church, Chiang Mai, of the CCT
Other than a small number of American Baptist and British Churches of Christ congregations, most of the original member churches were originally Presbyterian congregations, many of which were started by missionaries from the American Presbyterian Mission Board. The merger also included Lutherans from the German Marburger Mission.  Of the five groups, the CCT is the best fit for All Saints.
As the CCT is an ecumenical denomination, membership would not require us to alter our form of worship or theology.  The doctrinal requirements of the CCT are to
Believe together primarily according to the
Old Testament and New Testament
Believe and accept the doctrine of The Apostles' Creed
Believe and accept the doctrine of The Nicene Creed
There is nothing here that we cannot wholeheartedly accept.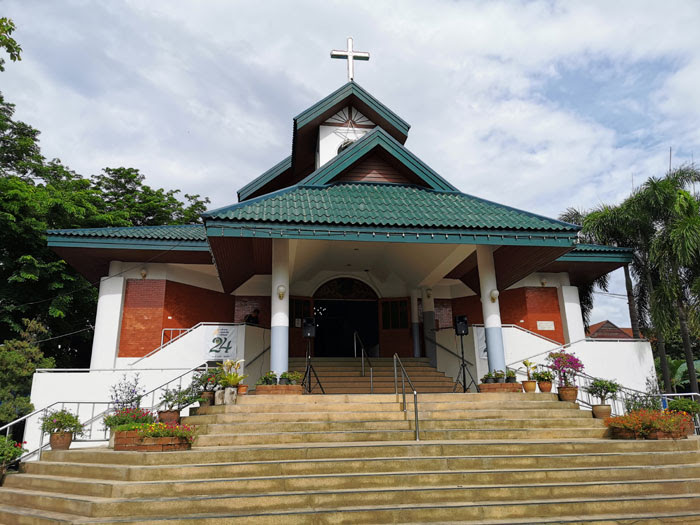 Tham Pratheep Church
At the Congregational Meeting earlier this month, those present voted for All Saints to move forward with the process of becoming a fellowship under Tham Pratheep Church.  This is the first part in the process to become an independent congregation within the CCT.
What happens now?
The trustees will begin to compile a list of "members" of All Saints.  Anyone who feels they are part of All Saints can be a member provided they are a Christian and over the age of eighteen.  (This does not affect their membership of any other church outside Thailand.)
When we have registered more than thirty members, the Trustees will begin talks with the Session (Church Council) of Tham Pratheep Church.  When Tham Pratheep has approved the acceptance of All Saints as a fellowship of Tham Pratheep Church, then the decision to go ahead will again be returned to a Congregational Meeting of All Saints for approval.
After a few months, Tham Pratheep will ask the Regional Presbytery of the CCT (this is the regional body of the CCT in Chiang Mai) to approve All Saints Fellowship becoming a church in its own right.   At any stage in the process we can decide to pull out if we are not happy.  Once All Saints is a church in the CCT it will have an elected Church Council (Session) and be part of the CCT structures.
You probably have many questions about this.  I do too.  Please email your questions to me or any of the Trustees, and we will try to find the answer during the talks with Tham Pratheep.  We need to proceed forward together and so it is important that we are all fully informed as we make any decisions going forward.
All Saints' Wednesday Lunch
This is now a weekly event!  Yesterday, a group from All Saints again gathered for lunch!  Why not join next week?  (You don't need to be a member of the Gymkhana Club to attend!)  We will be meeting at the Gymkhana Club at midday every Wednesday!
Weekly Offering to All Saints
Although we are not meeting together face-to-face, the expenses of All Saints remain – indeed, they may increase as we seek to support those in need!
Although there is no basket being passed around in our service, you can still give your offering.  People in Thailand can transfer directly to the church bank account.  (Which is in my name, but managed by our treasurer, Don Williams.)  Thanks to all those who have already given – we are receiving approximately our normal monthly offering!
The details are:
Account Name: Iain Girvin Baxter
Bank: Krungsri Bank
Account Number: 7181-05586-5
SWIFT Code: AYUDTHBK
Those in the UK, or with UK banking, can donate via All Saints Chiang Mai Mission.  Their account details are:
Bank: Coop Bank
Account Name:  All Saints Chiang Mai Mission
Account Number: 65877142
Sort Code:  08-92-99
Alternatively, you can donate with PayPal or with any debit or credit card via the All Saints Website on the Donate Page.
Please email me if you would like a receipt.
Keeping in Touch
At this time of isolation it is important that we keep in touch with each other.  We have an All Saints church directory with a list of many people's phone numbers, so if you would like a copy please email me, on iain@AllSaintsChiangMai.com and I will send it to you.
Please feel free to share this email.  People may be feeling especially alone and vulnerable at this time.  Let them know that we are there for them and that God is with us!
God bless,
Father Iain
Seventh Sunday after Trinity
Sunday 26th July 2020
Welcome to Worship
In the name of the Father,
and of the Son,
and of the Holy Spirit.
Amen.
Hymn:   
All People that on Earth do Dwell
The Greeting
The Lord be with you! And also with you!
Words of welcome
Prayer of Preparation
Almighty God,
to whom all hearts are open,
all desires known,
and from whom no secrets are hidden:
cleanse the thoughts of our hearts
by the inspiration of your Holy Spirit,
that we may perfectly love you,
and worthily magnify your holy name;
through Christ our Lord. 
Amen.
Prayers of Penitence
….
Most merciful God,
Father of our Lord Jesus Christ,
we confess that we have sinned
in thought, word and deed.
We have not loved you with our whole heart.
We have not loved our neighbours as ourselves.
In your mercy forgive what we have been,
help us to amend what we are,
and direct what we shall be;
that we may do justly, love mercy,
and walk humbly with you, our God.
Amen.
Gloria:             Glory to God
The Collect
Old Testament Reading:
1 Kings 3:5-12
This is the word of the Lord.
Thanks be to God.
Psalm 119
Glory be to the Father, and to the Son,
And to the Holy Ghost,
As it was in the beginning,
is now, and ever shall be
World without end, 
Amen
New Testament Reading:
Romans 8:26-39
This is the word of the Lord.
Thanks be to God.
Gospel Reading
Hear the Gospel of our Lord Jesus Christ
according to Matthew.
Glory to you, O Lord.
The Gospel Reading:
Matthew 13:31-33, 44-52
This is the Gospel of the Lord.
Praise to you, O Christ.
Sermon
The Apostles' Creed
I believe in God,
the Father almighty,
creator of heaven and earth.
I believe in Jesus Christ,
his only Son, our Lord,
who was conceived by the Holy Spirit,
born of the Virgin Mary,
suffered under Pontius Pilate,
was crucified, died, and was buried;
he descended to the dead.
On the third day he rose again;
he ascended into heaven,
he is seated
at the right hand of the Father,
and he will come to judge
the living and the dead.
I believe in the Holy Spirit,
the holy catholic Church,
the communion of saints,
the forgiveness of sins,
the resurrection of the body,
and the life everlasting.  Amen.
Hymn:
King of Kings, Majesty
Prayers of Intercession
Response:     
Lord, through your Son
you have shown us
the way, the truth and the life:
In your mercy, hear our prayer.
Let our prayers and praises
ill your temple, O Father,
as you send forth your Spirit
into the world
to empower your children
to do the deeds of your Son
and to be signs of your divine presence;
We pray in the name of
our Saviour Jesus Christ
who lives and reigns with you,
O Father,
in the unity of the Holy Spirit,
one God, now and for ever.
Amen.
The Peace
The peace of the Lord
be always with you!
And also with you!
Let us offer one another
a sign of peace.
Offering and Preparation of the Table
Hymn:
It is well with my Soul (Thai)
The Eucharistic Prayer
The Lord is here.
God's Spirit is with us.
Lift up your hearts.
We lift them to the Lord.
Let us give thanks
to the Lord our God.
It is right to give
thanks and praise.
…. 
Therefore with angels and archangels, and with all the company of heaven, we proclaim your great and glorious name, for ever praising you and singing:
Holy, holy, holy Lord
God of power and might,
Heaven and earth
are full of your glory.
Hosanna in the Highest.
Blessed is he who comes
in the name of the Lord.
Hosanna in the Highest.
….
Great is the mystery of faith:
Christ has died:
Christ is risen:
Christ will come again.
….
The Lord's Prayer
Being made one by the power of the Spirit,
as our Saviour taught us, so we pray:
Our Father in heaven…
Breaking of the Bread
We break this bread
to share in the body of Christ.
Though we are many,
we are one body,
because we all share
in one bread.
Lamb of God,
you take away the sins of the world,
have mercy on us.
Lamb of God,
you take away the sins of the world,
have mercy on us.
Lamb of God,
you take away the sins of the world,
grant us peace.
Giving of Communion
We share in the Body and Blood of Christ
Prayer after Communion
Lord God,
whose Son is the true vine
and the source of life,
ever giving himself
that the world may live:
may we so receive within ourselves
the power of his death and passion
that, in his saving cup,
we may share his glory
and be made perfect in his love;
for he is alive and reigns,
now and for ever.
Amen!
Hymn:
Tell Out My Soul
Blessing and Dismissal
Go in peace to love and serve the Lord.
In the name of Christ.  Amen.